Anchor
The main roads in the Alishan Scenic Area include Provincial Highway 18, County Highway 162A, County Highway 169, County Highway 149A, County Highway 159A, County Highway 166, Chiayi Country Road 129, and Chiayi Country Road 155. Provincial Highway 18 is the main road for tourism and is also called Alishan Highway.
It often becomes foggy in the afternoon on Alishan Highway. You are recommended to drive up the mountain in the morning and drive slowly.
Overtaking against the traffic regulations is forbidden on Alishan Highway and New Central Cross-island Highway. Drive safely.
For the latest updates of traffic disruption, you can call the Alishan Section of Yunlin-Chiayi-Tainan Region Branch Office, Highway Bureau, MOTC at +886-5-2592427; or access their website Yunlin-Chiayi-Tainan Region Branch Office, Highway Bureau, MOTC.
Main roads
National Highway 3 ➜ Provincial Highway 3 ➜ Meishan interchange (279K) ➜ County Highway 162A (Meishan, Ruili, Ruifeng and Taihe)
National Highway 3 ➜ Provincial Highway 3 ➜ Zhuqi interchange (290K) ➜ County Highway 166(Zhuqi, Taixing, Ruili)
There are scenic rest stops at the 56-km and 66-km markers of Alishan Highway with no toilet facilities. Public toilets can be found next to the Shizhuo Daming Car Repair at No. 21, Alishan Highway, Zhuqi Township, Alishan Township, Chiayi County 604.
National Highway 1 ➜ Chiayi System Interchange (272K) ➜ Expressway 82 ➜ National Highway 3 ➜ Zhongpu Interchange(297K) ➜ Provincial Highway 18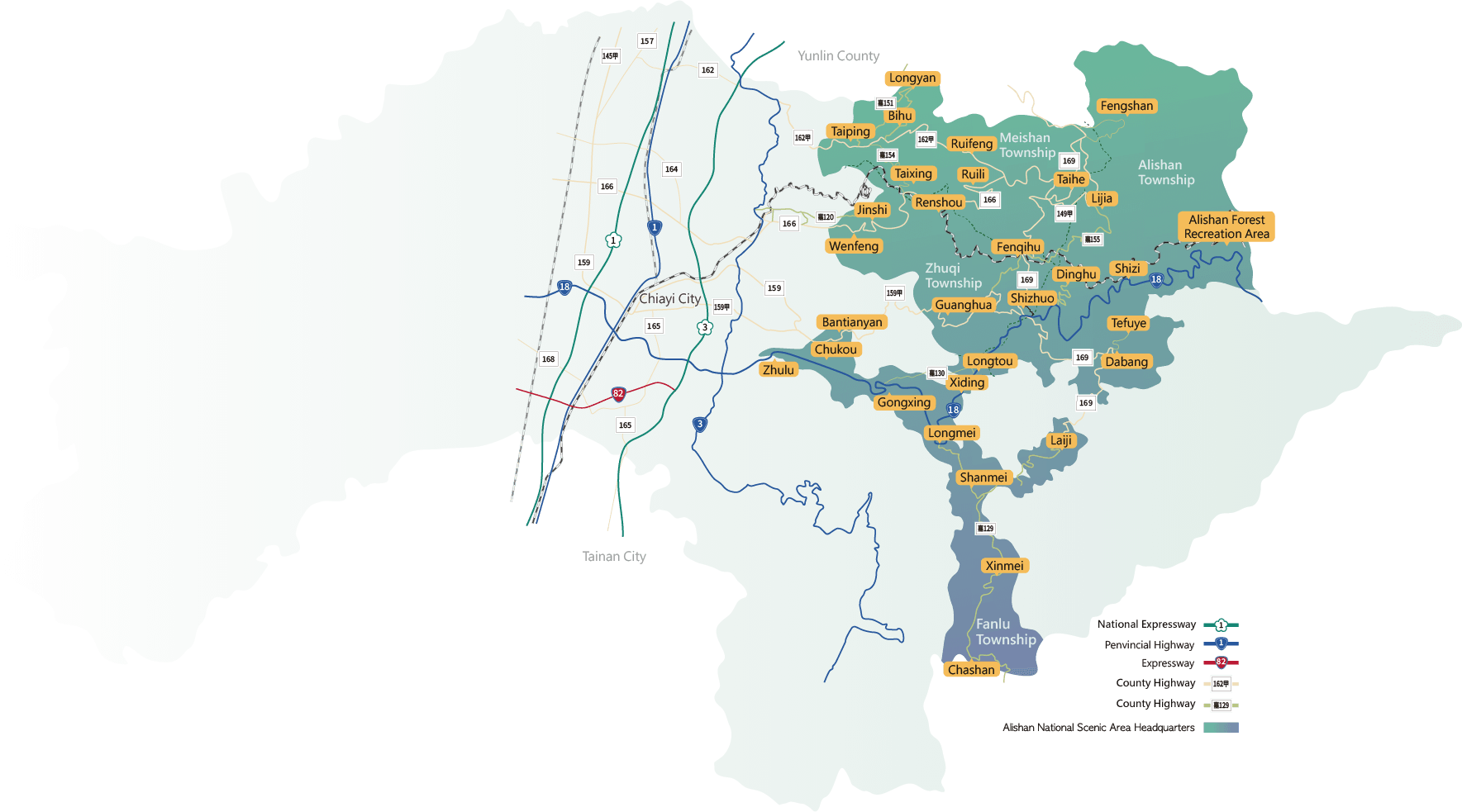 Alternative roads
In the case of traffic disruption, consider taking alternative roads.
The following alternative roads are one-way only and only suitable for small cars. You are recommended to check with local residents the current status of roads.
Shizilu - Shizhuo

There are industrial roads in Shizilu that go through Tefuye, Dabang, to Shizhuo. The roads are in good condition except that they are narrow and difficult for two cars to pass each other. Falling stones also occur frequently.

Shizhuo - Chukou

In Shizhuo you can take Dahua Highway to Fanlu and then Chiayi. There's a road between Longtou and Xiding that leads to Gongtian, which you can take to connect to Alishan Highway near Chukou.

Longmei - Chashan

In addition to Alishan Highway, there are two roads in Longmei: one of them going uphill, through the Caoshan Branch, connecting to the Dapuqiao Section of Provincial Highway 3 at Zengwen Dam. The other road is Chiayi Country Road 129, which you can go through Shanmei, to Danai Valley and Xinmei, and finally arriving at Chashan. In Chashan, there is a fork at which one road leads to Zengwen Dam and the other leads to Jiaxian through the Namaxia District of Kaohsiung City and Mount Zion.

5th Neighborhood, Laiji – Fenqihu

You can begin to go uphill after crossing the 5th Neighborhood bridge next to Laiji Resort. Take County Highway 149, and then County Highway 169, before arriving at Fenqihu.
Gas Station Information
All the gas stations in the Alishan Scenic Area are located along Provincial Highway 18.