Anchor
Introductory travel tips for Alishan
With the sunrise, sea of clouds, and the beautiful mountain trails, Alishan is one of the most popular tourist attractions in Taiwan. Located in Chiayi in midsouth Taiwan, Alishan covers a large area. For tourism, there are three routes: the "Alishan Highway" route where you can take in all the classic scenery of Alishan; the "Northwest Corridor" route where you can gain a deeper experience of local life and tea culture; and the "Tsou Tribal Culture" route for those who are interested in the indigenous culture of Taiwan.
more
Before departure, you should know…
Is Alishan suitable as a day-trip destination?
When visiting Alishan, consider slowing down your pace. As the distance between attractions is generally not short, one day might not be enough. It is recommended that you allocate 2-3 days buffering for traffic as well as allowing ample time to enjoy the beauty of Alishan.
Is it difficult to get around Alishan?
Most well known attractions are accessible by public transportation which might take a bit more time. Some visitors choose chartered taxis instead.
How's the weather in Alishan? Is it hot in summer?
Alishan is high in altitude and cool all year long. In summer, it might be slightly warmer in direct sunlight. In winter, the average temperature can be under 10°C.
When is the best time to visit Alishan?
You can visit Alishan all year long. It rains more in July and August so the recommended time is November to April next year. Also, due to the northeast monsoon, during this time you are more likely to see the sea of clouds and waterfall of clouds.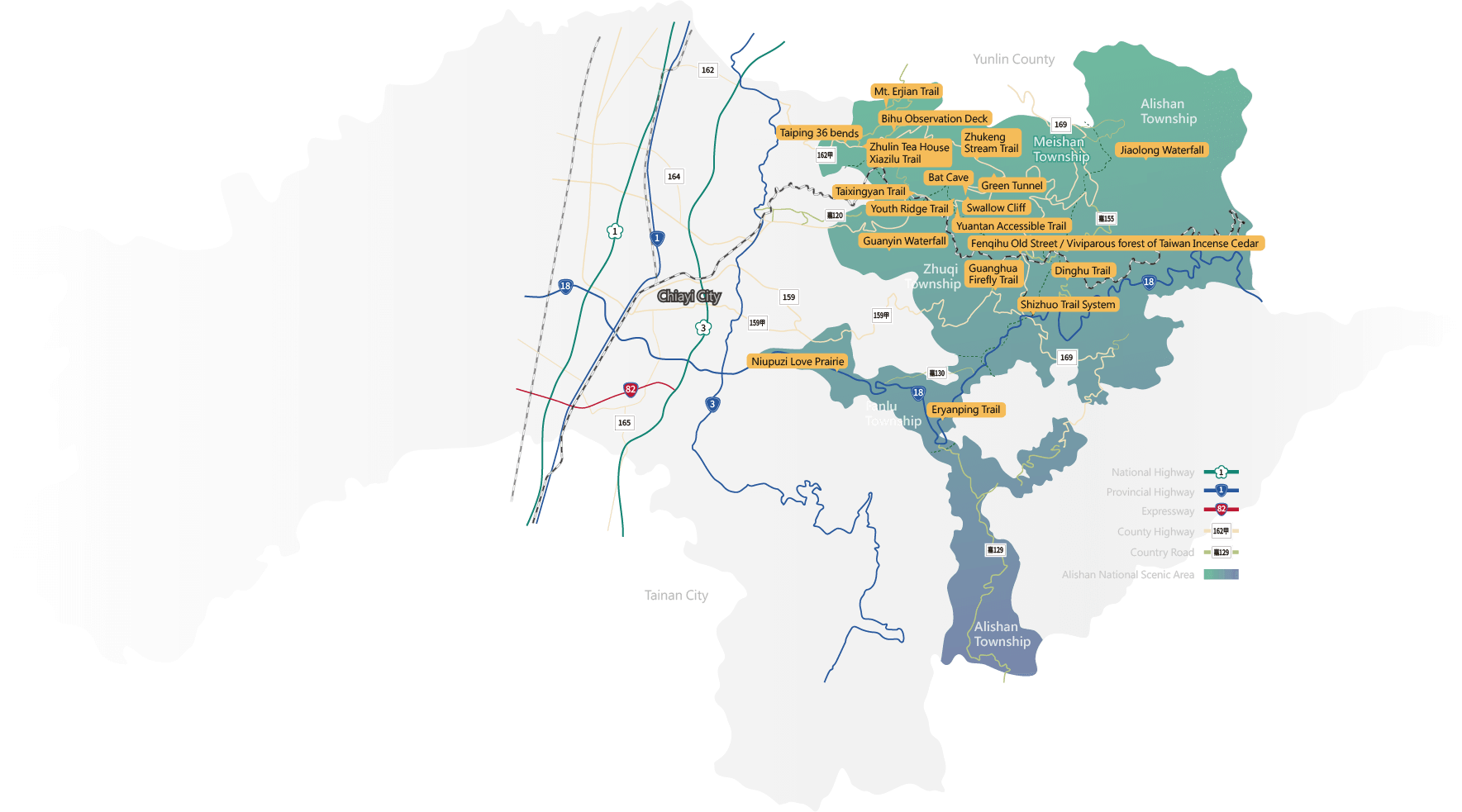 Currency

New Taiwan Dollar (NTD) is the currency. Common bank notes include 100NTD, 500NTD, and 1000NTD. Common coins include 1NTD, 5NTD, 10NTD, and 50NTD.

Languages

Mandarin Chinese and Taiwanese Min-nan are commonly used. Around tourist attractions, basic English is also applicable.

Power plugs and sockets

110V, 60Hz AC. Type-A plugs can be used.

Emergency contact

Police 110
Ambulance 119

Internet

Most accommodations provide Wi-Fi. You can also purchase mobile internet packages from mobile network operators.

Time zone

GMT+8. The entire Taiwan is in the same time zone.

Tipping

Tipping is generally not expected in Taiwan. Some restaurants might add a 10% service charge to your bill.

Travel information

At major attractions there are visitor centers at which travel information is offered in Chinese and English.
Getting there
From other parts of Taiwan to Alishan
HSR

The fastest way for traveling in Western Taiwan is the HSR. Ticket price is higher, but it saves you a lot of precious time.
From Exit 2 of Chiayi HSR Station you can take the express bus BRT to Chiayi Railway Station (about 25min) from where you can catch other transportations to Alishan.

HSR Chiayi Station

No. 168, Gaotie West Road, Taibao City, Chiayi County 612

05-3107000

Taiwan Railways

Moderate ticket price and relatively punctual trains are the first choice for many when travelling. From Chiayi Railway Station, you can transfer to Alishan Forest Railway or other means of transportation to go to Alishan.

Chiayi Railway Station

No. 528, Zhongshan Road, Chiayi City

05-2228904

Kuo-Kuang Motor Transport Company Ltd.

Kuo-Kuang Bus goes from Taipei, Taichung, and Xinying Tainan to Chiayi Transit Station. From there you can take other means of transportation to go to Alishan.
Within Alishan Area
Taiwan Tour Bus

Not sure how to plan your Alishan trip? Let Taiwan Tour Bus organize it for you! With the guidance from a professional tour guide, you can have an in-depth experience of the beauty of Alishan.

Taiwan Tourist Shuttle

Taiwan Tourist Shuttles take visitors from one popular attraction to another. They will be very helpful to you when travelling in the Alishan Area. The routes are designed to cover only the popular attractions, making them very convenient to tourists. There are ticket packages in conjunction with HSR.

Chiayi County Bus

If you do not plan to drive, Chiayi County Bus is a great choice. The buses stop at most tourist attractions. Do pay attention to the stopping time. Long intervals between buses might affect your schedule.

Alishan Forest Railway

Main line: Chiayi ⇌ Shizilu

Via: Beimen, Zhuqi, Zhangnaoliao, Dulishan, Liyuaniao, Jiaoliping, Shuisheliao, Fenqihu, Duolin

Branch lines (within the Alishan National Forest Recreational Area)

Zhushan Line

The sunrise time changes throughout the year. Alishan Station will adjust the train departure time according to the sunrise time as well as the volume of tourists daily. Those intending to take the sunrise watching train, please buy your tickets at Forest Railway Chiayi Station, Beimen Station, Fenqihu Station, and 2nd floor of Alishan Station at 13:00-16:00 the day before.

Shenmu Line

Zhaoping Line

Please refer to the Zhaoping Line timetable. Once you get off the train, walk the Shuishan Line.

Mianyue Line

There is no service on this line at the moment. Considering that the surrounding of Mianyue Line is a natural reserve of Taiwan Pleione and public safety, no entry is allowed in this area.
Driving around Alishan
If you hold an international driver's license, driving might be the most flexible way of travelling in Alishan.
Detailed driving routes and important notices regarding driving in the mountains: Self Drive