Anchor
Sunrise, sunset, sea of clouds
Layers of fog veil a vibrant sunrise among a sea of clouds at dawn, and leave an impressionable travel memory to many visitors. What do you picture when you think of Alishan? In fact, among the Five Wonders of Alishan, the extraordinary changes in the sky account for three of them – sunrise, sunset and sea of clouds. How can you miss such iconic, beautiful scenery in Alishan!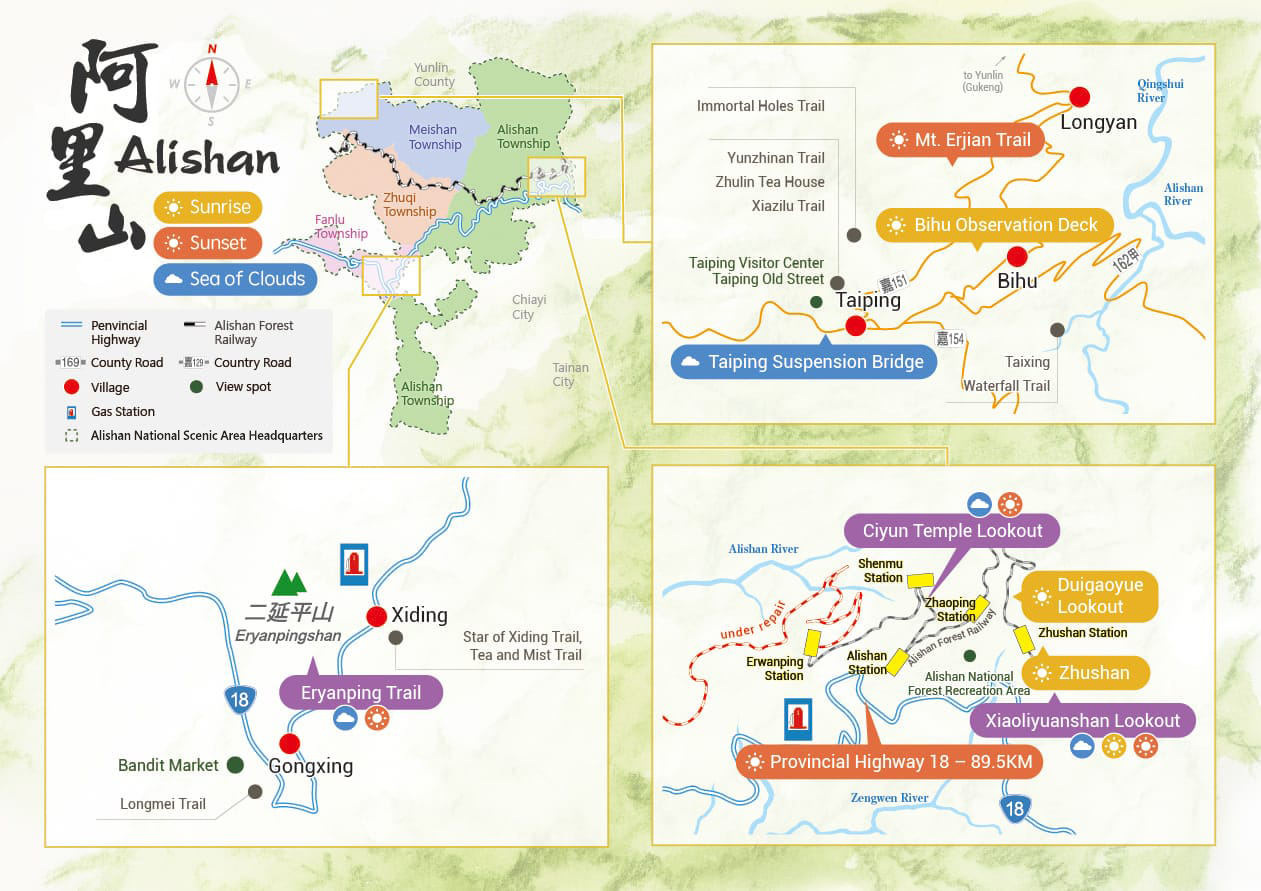 Map of Sunrise, Sunset and Sea of Clouds.jpg
Planning to Watch Sunrise

The temperature in the mountain is lower early in the morning, so please wear warm clothing.

If stars can be seen clearly at 3:00am, then the weather during sunset will most likely be detectable.

To see sunrise at Zhushan, you can walk on Zhushan Sunrise Trail or take the Zhushan line train.

Zhushan line Train

※ One way takes about 30 minutes.

※ Buy train ticket the day prior from 1:00pm to 4:30pm on the 2nd floor of Alishan Station.

※ Train departure schedules change each day according to sunrise time and number of passengers. For information, please visit the Forestry and Nature Conservation Agency website: Alishan Forest Railway and Cultural Heritage Office

Planning to Watch Sunset

The temperature difference before and after sunset is big, so please bring clothes to keep warm.

A good time to see the sunset is when you can see Yushan at the Xiaoliyuan Lookout

We recommend that you leave early to grab a good spot at the popular sunset spots.

Planning to Watch Sea of Clouds and Cloud Waterfall

The times to watch the sea of clouds are usually in the morning and dusk.

From November to April, it's easy to see the sea of clouds due to the effect of the Northeast Monsoon.

Cloud waterfall happens when there's a dramatic weather change and unstable airflow in the mountain, like the eve before Typhoon hits or when there's a forecast for one.
Viewing sunrise
Watch the sea of clouds
Enjoy sunset